Our Teachers
Welcome to Joyful Noise Music Studio! We are pleased that you are considering music classes for your child. Research has shown that we are all born with an aptitude for music, but that aptitude diminishes if it is not actively nurtured between the ages of birth and nine.
Musikgarten classes offered at Joyful Noise Music Studio are designed to nurture the child's musical aptitude by engaging children and their families in singing and movement activities which help attune the ear, refine the voice, and develop a rhythmic body through which music can be expressed. Additionally, instrumental activities are part of the program, ranging from simple rhythm instruments such as sticks and drums for babies and toddlers, to playing keyboards for older children.
As you familiarize yourself with our class offerings and learn more about Musikgarten, we look forward to answering your questions and welcoming your family into our music studio.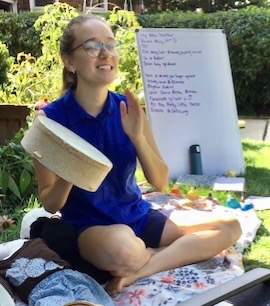 Olivia Mullins
Olivia is passionate about working with children of all ages. Her love for interacting with tiny tots came to fruition at Musikgarten of Oak Park where she saw just how smart young people can be, even at one year old. She enjoys fostering an environment for families to spend quality time together through an appreciation of nature and growing in their understanding of music.
Olivia is a lifelong resident of the Oak Park/River Forest area and graduated from Wheaton College in 2018 with a Bachelors in Music. Her journey with the Musikgarten method started in college through the Community School of the Arts in Wheaton, IL and continued after college with Amy Pappageorge at Musikgarten of Oak Park. Olivia launched her private piano studio in 2015 and desires to see each of her students develop their own deep, personal relationship with music. A multi-instrumentalist, she cherishes playing violin in an orchestral setting and occasionally pulls out her accordion for a communal sing-along.